It is my pleasure to dedicate HalalFoodies.com's inaugural review to one of New Jersey's ultimate Halal Foodie destinations,
Kabab Paradise
! (cheers and applause)
The Food
I first discovered Kabab Paradise about 5 years ago when I got a job near their flagship location in Lake Hiawatha. They were still in their infancy stages then, and have since come a long way in terms of revamped decor, improved efficiency, and additional locations. But one thing that did
not
need to be changed, altered, or improved is the food. The food was and still is simply amazing.
Kabab Paradise is a Halal Foodie's dream come true. The menu offers a wide selection of fine delicacies from Afghanistan, as well exceptional American fare, including some of the best halal burgers your money can buy.
Kababs, Gyros, and Rice
Since the place is called Kabab Paradise, I'll start by describing the kababs. Always made fresh to order, cooked on skewers over a hot grill (I think it's a coal grill, but I could be wrong), the kababs are consistently mouth watering, juicy, and flavorful. It doesn't matter if you order the chicken, beef, or lamb, I promise you will not be disappointed.
A less expensive alternative to the kababs are the gyros, which are available in lamb or chicken. Get a gyro sandwich or a gyro platter, either way, these morsels of succulent, roasted meat are sure to satisfy. I usually go with the mixed gyro platter, which comes with grilled veggies and for some people is big enough to eat for lunch with enough leftovers for dinner. Not for me though, I'll kill it in one sitting.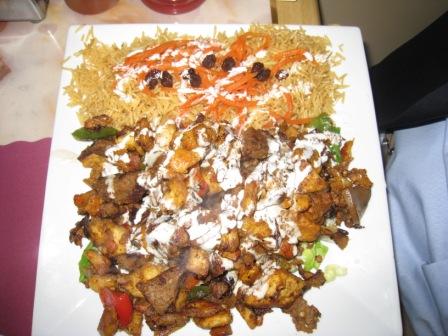 Partnered with the delicious kababs or gyros, is the aromatic Afghani rice, which for a little extra, can be topped with raisins and carrots. Trust me, when they ask you if you want raisins and carrots on the rice, your answer should be "yes, please!"
Burgers
In my opinion, Kabab Paradise cooks up the best halal burgers in the new york metro area. My all-time favorite is the Paradise Burger.
The Paradise Burger is the original Kabab Paradise specialty burger. The Paradise Burger is a nice, thick, juicy 4oz patty topped with sauteed onions and tomatoes, seasoned with some secret spices, that gives it just the right kick. They've added an array of other burgers over the last few years, all with assorted toppings and solar system themed names, such as the Neptune, or the Jupiter. These are also great, and I like the Neptune which comes with an onion ring topping or the Pluto which is a burger and chicken sandwich in one!
Other Notable Menu Items
I'd also recommend the cheese steaks, wings, paradise turkey, and chicken cutlet sandwiches. One note on the wings, they are jumbo! You get both halves of the traditional buffalo wing, so when you order 6 wings its really as if you're ordering 12 small buffalo wings. I recommend the "Super Hot Garlic Sauce".
Only one con regarding the food, I think they could do better on the buffalo chicken sandwich. Its basically just a couple of small pieces of chicken kabab covered in buffalo sauce thrown in a bun. It's kind of messy and difficult to eat. I think I'd like it better if it was a nice, big, crispy, chicken cutlet drenched in buffalo sauce.
The Experience
In case you haven't noticed by now, Kabab Paradise is my favorite restaurant. I've always had a positive experience there, and I'm pretty much a regular. At one point, I was going every Friday for lunch after Juma prayer service with a few buddies (shout outs to Ash, Shamiq, Haroon, and Shoaib). Those outings had to end because some of the guys got new jobs, and I now work from home on Fridays. But the service is always great.
The guys that generally run the place, Ali and Mujtaba (sons of the owner), are really cool, friendly guys
. They've recently improved the service level by adding a computerized point of sale system, adding more staff, and giving you a number for your table when you order.
Kabab Paradise is now up to three locations and counting. All three locations are small with limited seating and have a fast food restaurant feel. But the quality of the food is better than any other fast food you'll have.
The locations, all in NJ, are Lake Hiawatha, South Bound Brook (central jersey), and the take-out only location in Fair Lawn, which actually goes by the name "Paradise Platters." Paradise Platters only serves up take out fast food items and not the kabab dishes, hence the name change. Paradise Platters only has seating for two people, while the other 2 locations have seating for 25-30 people. I don't like the fact that they changed the name because they were beginning to establish a good brand name in "Kabab Paradise". Also, most people I know now refer to Kabab Paradise simply as "KP." Referring to Paradise Platters as "PP" doesn't sound very appetizing. I probably would've done something like "Kabab Paradise Express." But it still works and obviously makes sense since they don't sell kababs there.
The decor at the Lake Hiawatha location recently got an upgrade. They brought in new furnishings, paint, trim, menu displays, the works. The renovation was very tastefully done, with
neutral colors and nice accents
, which is consistent at the other locations. As Kabab Paradise Lake Hiawatha transitioned to a family friendly ambiance, one piece of decor that was removed from the walls was this
Scarface
movie poster. As a Halal Foodie, the quote on this poster echoes my feelings about Kabab Paradise to a tee..."This is paradise, I'm tellin ya."
An old friend of mine, Sameer, has a great site (
SameersEats.com
) in which he gives a behind the scenes look at halal eateries. Check out his video about Kabab Paradise below. Warning: Extreme hunger may result from watching this video!