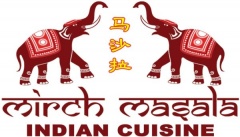 No, I'm not in China right now (I wish!). But I did recently come across this blog entry/restaurant review about
Mirch Masala
, a halal Indian restaurant in China. Seems like a place I would definitely check out if I ever found myself roaming the streets of Beijing.
Indian food in China...is there anything the Chinese can't make???
Mirch Masala is a stylish restaurant located on the Chaoyang District. The Indian dishes are made using free-range Halal meat, so the food is also suitable for Muslims. Mirch Masala is now one of the selective favourites of Tandoori and Curry lovers.
The ambience of the restaurant was warm and welcoming, and yet hearty and relaxed. The deco was truly Indian, with autumn colours and Indian style paintings. Not only this, but to give it a true Indian feeling, thy even had Indian music playing subtly in the background. The service was warm and inviting which makes you feel right at home.
Although there was a slight communication barrier, the staff was more then willing to help, and their patience still amazes me. They were willing to always go that extra mile for us, and they always had a smile plastered over their faces. The service was also quick and friendly.
The quality of the food was truly astounding; it tasted exactly like the Mirch Masla branch in England. You could tell that they used the freshest ingredients in their dishes. The special masalas are prepared from scratch daily so that no food will be carried over the next day.
Full Article Via
ChinaTravelDepot.com